Steinway Piano Gallery of the Carolinas Wins Steinway's Prestigious

Dealer of the Year Award
Charlotte, NC, Greensboro, NC and Greenville, SC (May 20, 2020) –In the midst of economic and social uncertainty comes good business news: Steinway Piano Gallery of the Carolinas has been awarded the coveted "Partners in Performance" dealer of the year award from Steinway & Sons, makers of the finest pianos in the world. This accolade recognizes the top Steinway dealer from among 65+ showrooms across North America. Nomination and selection are based on dealer performance in categories including sales, customer service, technical service, concert & artist activities, and more. The award was presented to Steinway Piano Gallery – Carolinas during the Steinway & Sons annual dealer meeting, which took place in March in Orlando, Florida.
"The Partners in Performance award is the highest honor bestowed to our dealers each year," said Todd Sanders, Vice President of Sales and Marketing for Steinway & Sons. "This designation highlights Steinway Piano Gallery of the Carolinas successful year and the exemplary work this dealer has done for Steinway since they first opened their doors. We're pleased to recognize the Loves and to thank them for their ongoing commitment."
"We are thrilled and honored to have this award, which recognizes our activities on behalf of Steinway," said Mark Love, CEO of Steinway Piano Gallery of the Carolinas. "To be selected as Steinway's dealer of the year is an acknowledgement not just of our sales accomplishments but of our firm commitment to promoting art and culture in the communities we serve. We are very proud."
"And, this award has reminded us what it means to be Steinway during difficult times as well. Right now, it is even more critical that we provide resources and support for our educators and their piano students who are now participating in virtual lessons," said Katherine Love, President of Steinway Piano Gallery of the Carolinas. "We have enhanced our rental programs as well as our virtual piano shopping platforms to allow our clients safe, secure options as they look towards healthy home activities like learning to play the piano."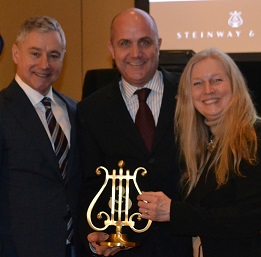 Ron Losby, Chief Executive Officer of Steinway & Sons (left) presents the Partners in Performance Dealer of the Year Award to Mark and Katherine Love of Steinway Piano Gallery – Charlotte, Greensboro, and Greenville.